Advertise with Neptune
For over 50 years, Neptune has been dazzling audiences with top notch performances right here in Halifax.
As an anchor institution for the region, Neptune is a cultural beacon, economic engine and trusted community leader. We invite you to become an advertiser to strengthen your visibility and grow your revenue. Communicating your offerings through Neptune channels is an effective way to connect with our diverse, affluent audience and position your company as a direct supporter of arts and culture. Neptune's mission is to inspire audiences with great stories and we encourage your company to join us in the process.
The typical Neptune patron is female, highly educated and an above-average income earner. Collectively, Neptune patrons spend $4.6 million annually in the local economy: $2.6 million in restaurants, $800,000 on shopping, $636,000 on travel and $461,000 on accommodations. Over $1.1 million of this spending is deemed incremental spending that would not have occurred had these customers not attended a Neptune performance.
Over 100,000 people attend Neptune Theatre performances each season.
34% are 30–49 years of age
51% are 50–69 years of age
46%have an annual household income of over $75,000
68% have university level degrees (undergraduate, master's and doctoral)
70% are female
79.5% dine out before or after a show
Source: On Site Patron Study conducted by Corporate Research Associates for Neptune Theatre.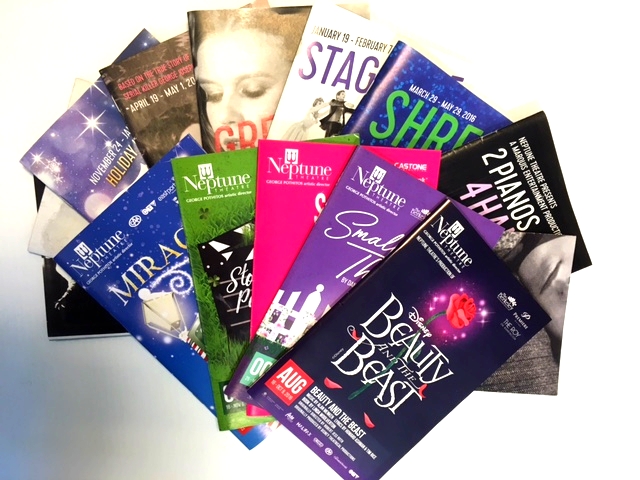 To advertise in Neptune's house program, which is distributed to all patrons who attend a show free of charge, please contact:

Sales@herald.ca
902-426-2811 X 1163
Download the media kit

For a range of other advertising and sponsorship opportunities available at Neptune, please contact Lisa Bugden, General Manager, lbugden@neptunetheatre.com
His music needed one thing. Her.
Join us for a beer on set! The set is actually a working bar, so you'll not only experience a musical with scads of awards, but you'll also be able to mosey up on stage and share a pint.
Winner
8 Tony® Awards including Best Musical
Oscar Best Original Song, Falling Slowly
Grammy® Award Best Musical Theatre Album
Could the department store Santa be the real thing?
Author Valentine Davies got the idea for Miracle on 34th Street while struggling through the Christmas shopping crowds, trying to find a present for his wife. The commercialism he saw made him wonder what the real Santa Claus would make of it all.
This "tale as old as time" is a classic musical love story filled with unforgettable characters, lavish sets and costumes, and dazzling production numbers including "Be Our Guest" and the beloved title song. Experience the romance and enchantment of Disney's Beauty and the Beast.

Nominated for 9 Tony Awards including Best Musical.
A mystery and a love story spanning five decades.
Based on the classic novel by Wayne Johnson, The Colony of Unrequited Dreams is a retelling of Newfoundland's first premier Joseph Smallwood. Smallwood was charismatic and controversial. While many Canadians today remember Smallwood as the man who brought Newfoundland into the Canadian Confederation, many Newfoundlanders remain sharply divided as to his legacy.
Glamorous Hollywood meets Rustic Ireland in a clash of cultures
Stones in His Pockets has been seen by over 2 million people, don't miss this hilarious and moving tale of a quiet Irish community turned upside down by the arrival of a Hollywood movie shoot.
"Very funny!" Irish Times
Meet the Kim family! They're getting standing ovations across the country!
"There are many reasons to cheer… join the celebration" – TORONTO STAR
"Stomach-hurtingly funny", "Dramatic and moving" – NOW MAGAZINE