Pay What You Can at Neptune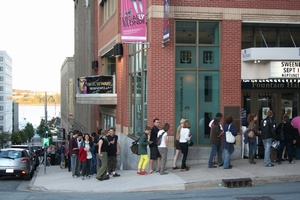 Neptune proudly offers Pay What You Can performances on the first Tuesday night of every show.
Pay What You Can performances are generously sponsored by Bell Aliant to provide accessible theatre to those who may not otherwise have the opportunity to attend a Neptune production.
Admission is by donation, cash only, and there is no advance ticketing. Numbers are distributed to patrons waiting in line to ensure fairness (maximum two numbers per person. Numbers do not guarantee entry). Doors open at 7pm for 7:30pm performance start. There is no assigned seating. The maximum capacity of Fountain Hall is 479 seats. The maximum capacity of the Scotiabank Stage Theatre is 192 seats.
How does it work? Click Here for Infographic (PDF 2.35MB)

Pay What You Can performances for Neptune's 2017-18 Season:
Summer Series:
Stan Rogers: A Matter of Heart – July 25, 2017*
* Please note: For this show only, the PWYC performance is the second Tuesday in the run.
Mainstage Series:
Seeds – September 12, 2017
Snake in the Grass – October 17, 2017
Jonas & Barry in the Home – January 16, 2018
The Mountaintop – February 27, 2018
MAMMA MIA! – April 10, 2018
Holiday Series:
It's A Wonderful Life – November 21, 2017
Dickens' A Christmas Carol – November 28, 2017
Studio Series:
Salt-Water Moon – January 30, 2018
Half-Cracked: The Legend of Sugar Mary – March 13, 2018
In a World Created By a Drunken God – May 1, 2018
---
An unflinching look at the reality of 21st Century farming and life
This docudrama looks at life within the context of business, philosophy and biotechnology.
September 12 -
October 1, 2017
A Christmas tradition comes alive on stage!
Make a visit to Bedford Falls for the timeless message that faith, hope and family make life truly wonderful.
Get into the Christmas spirit
November 21 -
December 31, 2017
Where ghosts from the past take a haunting toll on today
This sinister play delivers a story of shocking twists and supernatural turns sure to leave you questioning even those closest to you.
October 17 -
November 5, 2017
2017/18 Bonus Features
A Christmas Carol (Nov 28-Dec 24)
Makayla Lynn (Jan 18-21)
Port Cities (Feb 16-17)
Echos of Time (Apr 20-21)
A moving interpretation of Mather Luther King Jr.'s final night
A reimagining of Dr. King's final hours as he confronts his destiny and legacy.
February 27 -
March 18, 2018
A mother. A daughter. Three possible Dads.
Dance along to the music of ABBA in this ultimate feel-good show, seen by over 60 million dancing fans in more than 40 countries!
Begins April 10, 2018!